Swapping in a bit of microbial 'meat' has big eco-gains
19 min read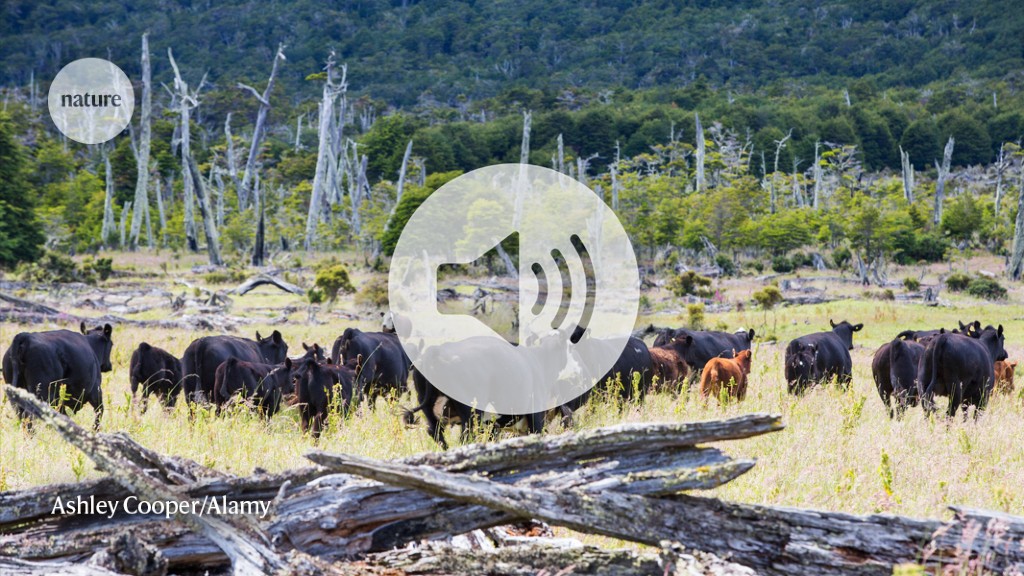 Host: Nick Petrić Howe
Welcome back to the Nature Podcast. This week, how moving to microbial protein could reduce emissions.
Host: Benjamin Thompson
And how mosquitoes home in on humans in a sea of smells. I'm Benjamin Thompson.
Host: Nick Petrić Howe
And I'm Nick Petrić Howe.
[Jingle]
Interviewer: Nick Petrić Howe
First up, researchers have been looking into the diets of the future, and showing how small substitutions of meat for microbial protein could lead to big gains for the environment. It's well understood that the production of meat has large impacts on the environment. It's a little bit more complicated than that but, in general terms, meat production, especially of ruminants – the cows and sheep of the world – produces a lot of greenhouse gases and uses a large portion of the available land we have on Earth, as Florian Humpenöder, a sustainability scientist from the Potsdam Institute for Climate Impact Research explains.
Interviewee: Florian Humpenöder
So, if you look at the average, let's say, European diet then the environmental impacts of livestock products account actually for a large share of the whole impact in the food system.
Interviewer: Nick Petrić Howe
Around the world, there have been pushes to try and encourage people to eat less meat, and that's where alternatives to meat come in. Rather than trying to get people to shift to a vegetable-centred diet that may be unfamiliar, is there something else that's equally nutritious and palatable as meat that people can eat instead? Things like lab-grown meat are relatively embryonic technologies, so Florian has been looking into something that is already readily available – microbial protein.
Interviewee: Florian Humpenöder
Microbial protein is produced in bioreactors, so that means there are microorganisms and they live on usually sugar, and then the bioreactor is heated and then the microorganisms produce a biomass, and that can be harvested and packaged, and it's protein-rich and also it has a similar structure like meat.
Interviewer: Nick Petrić Howe
This week in Nature, Florian and his colleagues have been working out how much of a difference it would make to the environment if you substituted some of the world's meat production for this microbial protein. And if you're getting a bit of déjà vu then that's because this is something that has been assessed before in life cycle assessments. These are studies that look at the whole life cycle of a product and its relevant environmental impacts.
Interviewee: Florian Humpenöder
And that's a very helpful tool because what it does is it makes the environmental impacts of different products comparable. So, what you have is then one unit of microbial protein or one unit of ruminant meat. What are the associated land-use impacts, so how much land is needed per unit of product? What are the emissions? How much water is needed? And what is the energy required? If you compare that, you see that microbial protein would have far lower environmental impacts compared to ruminant meat.
Interviewer: Nick Petrić Howe
But these previous studies have looked at what's going on right now. What's different with Florian's study is it's looking at how things could change in the future globally. As the population gets bigger and people get wealthier, meat consumption is forecasted to increase, so Florian looked at a scenario which follows the current trends in population growth and economics up to 2050.
Interviewee: Florian Humpenöder
And in that scenario, we see an increasing demand for ruminant meat. And in that case, we see also quite some deforestation and emissions from land-use change.
Interviewer: Nick Petrić Howe
From this baseline, Florian was then able to calculate the environmental costs if some of this projected meat consumption was gradually replaced by people eating microbial protein instead. He looked at a few scenarios to see what would happen if 20% of meat was substituted, or if 50%, or if 80% was. Even at the low end, he saw quite a difference.
Interviewee: Florian Humpenöder
It was really surprising to see that if we replace only 20% by 2050 that this already has such a strong impact because this would cut the CO2 emissions from the whole agricultural system, from land-use change, in half, which is quite a number.
Interviewer: Nick Petrić Howe
Part of this predicted reduction in CO2 emissions came from a reduction in deforestation. As meat consumption decreases, there's less need to cut down forest to make new pastures. So, what about the higher estimates – the 50% and 80% substitutions?
Interviewee: Florian Humpenöder
Yeah, in these cases, there is a further reduction of deforestation and also CO2 emissions, and also very importantly the methane emissions. But these beneficial effects or these land-saving effects, they diminish. And, this is something that's really a novel finding from our study.
Interviewer: Nick Petrić Howe
The law of diminishing returns is a cruel one. As replacement of meat with microbial protein increased, the gains started to slow down. For example, when it comes to deforestation, there was very little difference between the 50% and the 80% scenario. If you replaced 50% of meat with microbial protein, it would mean that basically all of the deforestation to do with meat production would already have stopped. So, if you went further and replaced 80% of meat with microbial protein, there are no further gains to be made there. Nonetheless, Florian's study does show that all of the different scenarios lead to big reductions in environmental impacts. Even at 20% substitution, there were huge gains to be made. There are some caveats though. Unlike cows, these bioreactors where microbial protein is produced use a lot of electricity, something which comes with its own impacts. And this wasn't accounted for in Florian's model.
Interviewee: Florian Humpenöder
And that's a very central point when you want to assess the sustainability of microbial protein, as such. But it also points to another very important transformation, and that's the transformation of energy systems because if electricity generation would be largely carbon neutral or carbon free then, of course, this would also reduce the environmental impact of energy use for any sort of cellular agriculture.
Interviewer: Nick Petrić Howe
So, perhaps as the electricity production gets greener, so will the production of this microbial protein. There are other caveats as well. For instance, growing sugar crops needed to feed the microbial reactors is not without its own impacts. In any case, Florian was surprised at just how much of a difference only a 20% substitution would make, and a substitution with something you can already buy at the shops.
Interviewee: Florian Humpenöder
I think it just points to the fact that there are alternatives to ruminant meat consumption, and actually what we implemented in our model, it's not some fancy, future technology. It's something that exists already in reality.
Interviewer: Nick Petrić Howe
That was Florian Humpenöder from the Potsdam Institute for Climate Impact Research in Germany. For more on this story, check out a link to the paper in the show notes.
Host: Benjamin Thompson
Coming up, we'll be learning how Aedes aegypti mosquitoes are able to distinguish humans from animals using our smell. Right now, though, it's time for the Research Highlights with Shamini Bundell.
[Jingle]
Shamini Bundell
The world's largest living reptile, the saltwater crocodile, is making a comeback in some parts of Australia, thanks to a diet rich in feral pigs. In the mid-twentieth century, saltwater crocodiles were nearly hunted to extinction. Since then, the species has made a strong recovery, especially in the northern regions of Australia. To investigate what the crocodiles were eating, researchers compared the chemical signature of bones from modern saltwater crocodiles with those from museum specimens collected half a century ago. Modern crocs in northern Australia moved away from marine prey and instead began feeding on land animals, probably due to an increase in the local population of feral pigs over the past few decades. The pigs are prolific breeders that wallow in water bodies, making them an ideal and nutritious food source for the crocs. And the researchers say this shift in dietary habits probably enabled the crocodile population boom. Snap up that research in Biology Letters.
[Jingle]
Shamini Bundell
The secret behind the purple shimmer of some of the earliest European-made porcelain has finally been cracked. It's caused by gold nanoparticles. Porcelain made in the early eighteenth century at the Meissen factory in Germany is often decorated with the purple glazes called Purple of Cassius and Böttger lustre. Only the lustre, for which the precise chemical recipe is unknown, is iridescent. Researchers used an electron microscope, along with other analysis, to study a fragment of a teapot decorated with Böttger lustre, as well as a cup glazed with Purple of Cassius. They found gold nanoparticles in both surfaces. But the iridescent lustre of the teapot contained nanoparticles of different sizes, including larger ones. The authors suggest that the lustre's larger particles act in the same way as a diffraction grating, reflecting different wavelengths of light in different directions to create the iridescent effect – a theory they tested by recreating the effects using modern methods and ingredients. Don't glaze over that research. Read it in full in the Proceedings of the National Academy of Sciences of the United States of America.
[Jingle]
Interviewer: Benjamin Thompson
Next up on the podcast, we're going to be delving into the brains of the mosquito species Aedes aegypti – an important vector for diseases that's found across the world. Now, the females of this species are biters, feeding on humans and animals. But they much prefer us, and one of the ways they can pick us out is through our body odours. However, exactly how they distinguish between human and animal smells has been unclear. This week, though, a new paper in Nature gives some neuronal insights into how these mosquitoes pick us out. To find out more, I gave one of the authors, Lindy McBride, a call, and she told me a bit more about Aedes aegypti mosquitoes.
Interviewee: Lindy McBride
There are over 3,000 species of mosquitoes in the world, and there are just a handful that have evolved to really specialise in biting humans. This is one of them, and it's an important vector of human disease. So, all of the major viruses that are carried by mosquitoes and spread among humans are basically carried by this mosquito. That includes dengue fever, Zika fever, yellow fever and chikungunya. And what makes it such a good vector is that it selectively bites humans.
Interviewer: Benjamin Thompson
And mosquitoes in general have a lot of ways of discerning humans to bite. What sort of methods do they use?
Interviewee: Lindy McBride
Mosquitoes are very good at finding humans and things to bite in general. One of the most important cues, which is not specific to humans, is the carbon dioxide in our breath. And when mosquitoes smell carbon dioxide, it sort of tells them that there's something more interesting in the area that they should be looking for. And it all of a sudden sensitises them to all of these other cues we give off like body heat and what we study which is body odours.
Interviewer: Benjamin Thompson
And for Aedes aegypti then – the mosquito you've been looking at – odour seems really important for discerning a human to bite from, say, an animal.
Interviewee: Lindy McBride
Yeah, among all the cues that we give off, it's our body odour that's the most specific to humans. It's hard to differentiate the body heat of a human and a non-human animal. But when it comes to body odour, we have a bouquet of chemicals in our odour that makes us unique, and these mosquitoes are just amazing at recognising that specific human odour, essentially.
Interviewer: Benjamin Thompson
And researchers have been studying how mosquitoes respond to odour for a long time. What was the question that you were trying to answer?
Interviewee: Lindy McBride
Yeah, a lot of that work has included looking to see what's in human odour, making blends that mimic human odour and asking whether mosquitoes are attracted to those blends. I think what we did which was a little different is we went straight into the brain of the mosquito. Now that we have all these advanced genetic tools, it allowed us to say, 'Well, let's actually look at the olfactory centres, at neurons in the brain that they use for detecting odours and see what they care about. What is it in human odour that these mosquitoes are sensing?' And that will give us some insight into what they care about and what it is about human odour that they're really looking for.
Interviewer: Benjamin Thompson
So, you were interested then as to what was going on in the mosquitoes' brains as they detected these odours – smelt them, I guess – using their antennae. How did you go about trying to figure that out?
Interviewee: Lindy McBride
So, what we did is a fantastic student in my lab named Zhilei Zhao generated transgenic mosquitoes so that basically their brains, their neurons, light up when they're active. Once we have these mosquitoes engineered, we can put them under a fancy microscope, cut open a little window in their head and watch the brain as the mosquitoes smell different types of odour. So, then we would puff human odour over a mosquito and ask, 'Okay, what neurons are lighting up when we puff human odour to the mosquito, and what neurons are lighting up when we puff animal odours?' And that allows us to identify the things that are uniquely activated by human odour.
Interviewer: Benjamin Thompson
And what did you see then going on inside the mosquito brain when it smelled a human odour compared to an animal odour?
Interviewee: Lindy McBride
So, there were several different populations of neurons that lit up and actually fewer than we expected because human odour has at least dozens of chemicals in it, and we thought that there'd be some sort of complex pattern of activity, but it was pretty simple. There were 2 or 3 populations of neurons that were strongly activated by human odour. And one of them was really much more strongly activated by human odour than animal odour. It seemed to be very selective for human odour, and we immediately became interested in those particular neurons.
Interviewer: Benjamin Thompson
I mean, I guess odours are impossibly complex, right? We've got oils, we've got sweat and all sorts of other things going on. And so, the next step for you was to try and hone in on what it was about human odour that was attracting these female mosquitoes.
Interviewee: Lindy McBride
Yeah, and so there was another student in the lab who worked with us on this, Jessica Zung, and she found that human odour differs from animal odour in at least two pretty important ways. And one of those is that we have more of these compounds called long-chain aldehydes in our odour than animals do. And these neurons, these humans-selective neurons in the brain, the reason that they respond so strongly to human odour is that they're narrowly tuned to these long-chain aldehydes that we have more of.
Interviewer: Benjamin Thompson
And so, presenting these chemicals to the mosquitoes then I guess made them, what, jump up with excitement and get ready to go?
Interviewee: Lindy McBride
Well, that's what's so cool about how mosquitoes recognise humans, is these compounds alone are not that attractive to mosquitoes. They still need the blend because these are common things, these long-chain aldehydes, these are all over in nature. They're not human-specific, but they happen to be pretty abundant in human odour. But in the context of other compounds within human odour, then they enhance attraction.
Interviewer: Benjamin Thompson
So, the secret is in the blend then?
Interviewee: Lindy McBride
The blend is really important, exactly. And these long-chain aldehydes in our odour are probably derived from this compound in our sebum, and sebum is the oily stuff that gives us acne. And it's been known since the 70s, I think, that human sebum has this compound in it that hasn't been found anywhere else in nature, and it oxidises into these simple long-chain aldehydes, and so we think that that's the hook that these mosquitoes use to recognise us.
Interviewer: Benjamin Thompson
So, your work has given some insight then into how a mosquito differentiates me from another animal, but I guess it's not the end all and be all, right? You've said that there are a broad spectrum of things that mosquitoes use to know that a human is about. How does this one fit into all of those?
Interviewee: Lindy McBride
Yeah, mosquitoes are so good at finding us. You can wipe out all of these neurons that I'm discussing that we recorded from and they will still find humans, but their preference for humans is much less. So, this is really critical in how they choose among different types of things that they might bite, but it's not necessarily critical for them biting you in the first place.
Interviewer: Benjamin Thompson
And so, we know then that these mosquitoes carry some dreadful diseases, and efforts are put in to stop them biting or reduce their preference for biting. So, I guess there are some obvious applications for this work. How does it fit in, do you think, to trying to stop mosquitoes biting humans?
Interviewee: Lindy McBride
Our lab is a very basic research lab, but you could imagine a company or a more applied research lab taking this information and then using it to design a synthetic blend that's maybe even more attractive, or at least as attractive as humans, and can pull mosquitoes into like a lethal trap. You could also imagine using the imaging technology that we've generated, so these transgenic mosquitoes where you can image activity in their brain. If we know exactly the pattern of activity that's driving them to humans, then you could, in a very high throughput way, screen through libraries of hundreds of thousands of chemicals for repellents that somehow scramble or block those patterns of activity.
Interviewer: Benjamin Thompson
That was Lindy McBride from Princeton University in the US. We'll put a link to her paper in the show notes.
Host: Nick Petrić Howe
Finally on the show, it's time for the Briefing chat, where we discuss a couple of articles that have been featured in the Nature Briefing. Ben, what have you brought for us to discuss this time?
Host: Benjamin Thompson
Well, we opened the show with a story about climate change and modelling, and this is another story about that, but it's looking at a very different issue, and specifically it's looking at how the warming world might affect the chances of viruses being transmitted between mammals, and this is a news story I read about in Nature and it's based on a Nature paper.
Host: Nick Petrić Howe
Right, okay, so I guess I just don't really know how things being warmer might lead to more spills over of these viruses, so how does this work?
Host: Benjamin Thompson
Yeah, that's a good question, Nick, and specifically what they've done here is they're looking at how climate change is affecting things like where mammals live, right, and see how they interact. And they suggest that over 50 years, climate change could drive more than 15,000 new cases of mammals transmitting viruses to other mammals. Now, this could potentially be quite serious, right, because this increases the chances of these viruses being passed over to humans – a process called zoonotic transmission – and this is a threat to human and animal health, of course.
Host: Nick Petrić Howe
So, how have they worked this out? Where have they sort of looked and what are the sort of factors involved in this?
Host: Benjamin Thompson
Well, so, they put together a bunch of different things, running simulations and what have you, combining things like modelling virus transmission between mammals, how often that can happen, and also modelling species distribution under different climate change scenarios. And I think what they've shown here is that the research predicts that much of the virus transmission will happen when species meet for the first time, and this is likely to happen in cooler locales because species will migrate to cooler places. And it projects that this will happen particularly in species-rich ecosystems at high elevations, like areas of Africa and Asia that are densely populated by humans.
Host: Nick Petrić Howe
Right, so this is another negative consequence of climate change. We ask this a lot but is there anything really to be done about this?
Host: Benjamin Thompson
Well, Nick, in this work then they suggest a huge increase under not a huge amount of warming, no more than 2°C and, I think, as we've talked about on the podcast before, things are going to outstrip that potentially. And the world is obviously warming up already, and researchers are warning that this is happening. It's not preventable. But even though an increase is inevitable, there's no excuse for inaction of monitoring or surveilling of wild animals and viruses, as well as improving things like healthcare infrastructure. And I think other scientists maybe not involved in this work have said obviously there's lots of caveats in this work, but it's useful to know where this might happen so that efforts can be put into the right places. Of course, it is really hard to know whether a virus will jump from a mammal to a human, but I think the world knows what could possibly happen. Of course, many researchers say that the COVID-19 pandemic probably started when a coronavirus passed from a wild animal to a human. So, it's a really important issue, and we talk a lot on the podcast about the impacts of climate change. But looking at what might happen in terms of global health, in terms of pandemics, is one of those other knock-on effects that maybe is getting talked about more and more.
Host: Nick Petrić Howe
Well, thanks for bringing that one to the Briefing chat, Ben. It's certainly an interesting thing, and good to know where to focus on in the future. For my story this week, I've been looking at dog breeds, and this was a story in Nature based on a Science paper, and how behaviour and dog breeds may not necessarily go together.
Host: Benjamin Thompson
Well, Nick, another story in the animal world then. This one does seem like it might be a little bit cheerier. But, yeah, I guess lots of dogs are known to have particular personalities. I think of Jack Russells, right, being particularly sort of tenacious or things like that.
Host: Nick Petrić Howe
Yeah, yeah, things like that. That's the sort of way it's understood. And the American Kennel Club, for instance, will actually have descriptions of different dogs, and be like this dog breed is like this. However, that doesn't necessarily seem to be the case because researchers have done a massive study of over 18,000 dogs and how their owners rate their personalities on different factors and found that breed doesn't really predict behaviour. Maybe a little in some cases but, in many cases, doesn't really predict it at all.
Host: Benjamin Thompson
I mean, it sounds like a pretty big study then. What were they looking at to try and tease these things apart?
Host: Nick Petrić Howe
So, the first step was to recruit a bunch of dogs and their owners. And so, in this study, as I said, there were over 18,000 dogs, and they asked questions of the owners about the pets' backgrounds and activities. So, do they have a propensity to eat grass? How likely are they to chase toys? That sort of thing. But what they also did is they actually sequenced the DNA of a subsection of these, over 2,000 or so, to get an idea whether these behaviours that the owners are saying lined up with anything in their genetics. And in this case, it did seem to. There were some behaviours that lined up with genetics. But when it came to breed, it basically didn't predict, or at least not very well, different behaviours.
Host: Benjamin Thompson
And so, these kind of categories then and these stereotypes might be wrong then?
Host: Nick Petrić Howe
Yeah, well, what the author's point out is that breeds as we think of them today are actually very, very recent. The sort of pugs and German shepherds, that sort of thing, that dates back only to the Victorian times where dog breeders would try and breed different dogs for specific aesthetic characteristics, so how they look. And actually, the behaviours are much more ancient than this, and so they're not necessarily related. On average, breed explained only about 9% of the variation in how a dog behaved, which is much, much smaller than people have generally thought. And actually, for some things, such as behaviours associated with aggression, breed was essentially useless at predicting that.
Host: Benjamin Thompson
So, once again then, when it comes to things like genetics and traits, it's more complicated than that.
Host: Nick Petrić Howe
Yeah, exactly. One of the authors of the study is quoted in the article saying that when you adopt a dog based on its breed, you're getting a dog that looks a certain way. But as far as behaviour goes, it's kind of luck of the draw. And other researchers that were interviewed for this agree. One researcher said we talked about breeds like they're categorically different, but in reality, that's not really the case. And other researchers were quoted as saying like it makes sense when you think of how recent different breeds are.
Host: Benjamin Thompson
Well, Nick, that is a terrific story. Thank you very much indeed. Let's call it there for this week's Briefing chat. Listeners, if you'd like to learn more about either of these stories, we'll put links to them in the show notes, and we'll put links on where you can sign up to the Nature Briefing itself to have even more stories from the world of science delivered directly to your inbox.
Host: Nick Petrić Howe
And that's all for the show this week. There's just time to mention that we recently won a Webby Award.
Host: Benjamin Thompson
Yeah, fantastic news. It was for our episode 'What's the isiZulu for dinosaur?', and we'll put a link to that in the show notes.
Host: Nick Petrić Howe
Yeah, thank you for everyone who's been listening, whether this is your first episode or your 725th. We really appreciate it and it helps us keep doing the stuff that we're doing. We'll be back again next week but in the meantime, feel free to reach out to us on Twitter – @NaturePodcast – or you can send an email to [email protected]. I'm Nick Petrić Howe.
Host: Benjamin Thompson
And I'm Benjamin Thompson. Thanks for listening.