B.C. to get $1.2 billion in federal cash for health and mental health
7 min read
The $1.2 billion will go toward recruiting more nurses, reducing waiting times for diagnostic imaging and medical treatments, mental health and addiction support.
Get the latest from Katie DeRosa straight to your inbox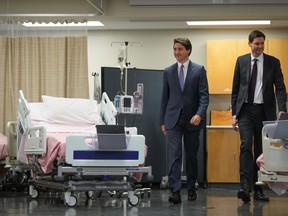 Article content
The union representing tens of thousands of B.C. nurses said $1.2 billion in federal health funding over three years will be key to fulfilling's the new nurse-to-patient ratios announced by the province's health minister earlier this year.
Health Minister Adrian Dix and his federal counterpart, Mark Holland, were at Vancouver General Hospital on Tuesday to announce that B.C. is the first province to reach an agreement with Ottawa over new health care and mental health funding.
Article content
Dix said part of that money will be used to overhaul the approach at 83 acute care sites so nurses can spend more time with patients.
Dix announced in April that B.C. would become the first province in Canada to set rules limiting how many patients each nurse can take care of, in an effort to keep burned-out nurses from leaving the profession. However, critics questioned whether the $750 million in provincial money over three years would be enough to hire the thousands of nurses needed to prop up a severely understaffed workforce.
The federal top-up "will go a long way to making (nurse-to-patient) ratios in British Columbia a reality," said Adriane Gear, head of the B.C. Nurses' Union.
Limiting the number of patients that nurses are caring for at any given time will be key to retaining nurses on the verge of burn-out and attracting nurses from other parts of Canada or internationally, Gear said.
California and Australia had major successes in attracting nurses after they set nurse-to-patient ratios, she said.
Gear estimated the province needs at least 5,000 more nurses to meet the proposed ratios, which are 1-to-1 for critical-care patients on ventilators, 1-to-2 for critical-care patients not on ventilators or those needing high-dependency mental-health care, 1-to-3 for specialized care, 1-to-4 for in-patient and palliative care and 1-to-5 for rehabilitative care.
Article content
The province has yet to set a date for when the nurse-to-patient ratios will come into effect, but they were a key part of the B.C. Nurses' Union's collective agreement ratified in May. Dix did not give a breakdown for how much of the $1.2 billion will be spent on hiring new nurses, doctors and health workers.
The federal cash will also go toward reducing waiting times for diagnostic imaging and medical treatments and increase access to mental-health and addiction supports. For example, B.C. will expand the number of Foundry centres — which the government has billed as "one-stop shops" for youth struggling with mental-health and substance use — from 16 to 35 across the province.
Addictions Minister Jennifer Whiteside did not give specifics when asked how much of the mental health funding will be used to increase the number of treatment facilities or overdose prevention sites in B.C. Last week, the province introduced a law that will ban open drug use in almost all public spaces but critics said the government's announcement should have been coupled with funding for more supervised places to use drugs and more addiction and recovery beds.
Article content
The province will work with the First Nations Health Authority to improve access to culturally appropriate and trauma-informed treatment and care. Dix said this will address some of the concerns raised in the In Plain Sight report, which found Indigenous people face worse health outcomes because of systemic racism in the health system.
The funding includes $325 million a year in new funding and $82 million a year in previously announced mental health and substance use funding.
Holland also wants B.C. to increase the number of people who have access to their own electronic health information, the absence of which can be frustrating for people who see several different health practitioners because they don't have a family doctor or team-based care.
The province will have to meet certain targets and publicly report on its progress each year.
The announcement comes a day before Holland, Dix and the country's health ministers head to Charlottetown for a two-day meeting that is expected to focus on the shortage of health care workers across the country.
Holland said a top item for discussion will be whether Canada should implement a pan-Canadian licensing system, to allows nurses or doctors licensed in one province or territory to have their credential recognized across the country. Holland noted the Atlantic provinces already have such an agreement.
Article content
The Canadian Medical Association backs pan-Canadian licensing, saying it would reduce barriers to physician mobility and improve access to patient care.
After months of tense negotiations with the provinces and territories, the federal government in February announced it would increase federal health care transfers to the provinces and territories by $196 billion over 10 years, with B.C. getting a $27.47 billion share of that.
However, just $6 billion of that, or $600 million a year, is new money above and beyond what B.C. was already slated to get under the Canada Health Transfer agreement.
Premier David Eby in February called the funding "fiscally limited" and far short of the additional $3.9 billion B.C. was pushing for if Ottawa increased its share of the Canada Health Transfer from 22 per cent to 35 per cent.
The province's annual health budget is $27 billion, $6 billion of which comes from the federal government.
The federal government is negotiating tailor-made bilateral agreements with each province to determine how the health care money is spent. B.C. is getting a total of $3.6 billion in bilateral funding over 10 years, which will be spent on primary care, community health care and mental health and addiction. The money announced Tuesday is part of that $3.6 billion.
Article content
Holland said he's working on reaching agreements with the other 12 provinces and territories. All provinces and territories — except Quebec — have agreed in principle to the health deal.
Stay up to date with the latest news on provincial affairs: Click here to read more stories from Katie DeRosa.
Related Stories
B.C. and Ottawa reach $27-billion health funding agreement

British Columbians split on whether the health care system is working: poll
---
Bookmark our website and support our journalism: Don't miss the news you need to know — add VancouverSun.com and TheProvince.com to your bookmarks and sign up for our newsletters here.
You can also support our journalism by becoming a digital subscriber: For just $14 a month, you can get unlimited, ad-lite access to The Vancouver Sun, The Province, National Post and 13 other Canadian news sites. Support us by subscribing today: The Vancouver Sun | The Province.